The HorseWell Equine Massage Tool
Made from fiberglass infused Nylon, the HorseWell Massager is durable to withstand freezing temperatures and 100+ degrees.
The edge is designed with the scientific knowledge of fascia release. The curves to this blade conform to every muscle group that needs to be massaged on your equine partner.
This special massager is accompanied with demonstration videos that beautifully show you exactly how to use it.
With just 10-15 minutes before or after saddling, your horse can get the regular, effective massage they need!
The fascia can hold thousands of pounds of unwanted restriction! Ouch!
Improve recovery time with removal of lactic acid, lymphatic fluid, toxins, pain and improve circulation, relaxation all while building a stronger bond between horse and rider.
The HorseWell Massager benefits other therapies as well, such as PEMF treatments, Magnawave, Bemer Blankets, percussive massage and more!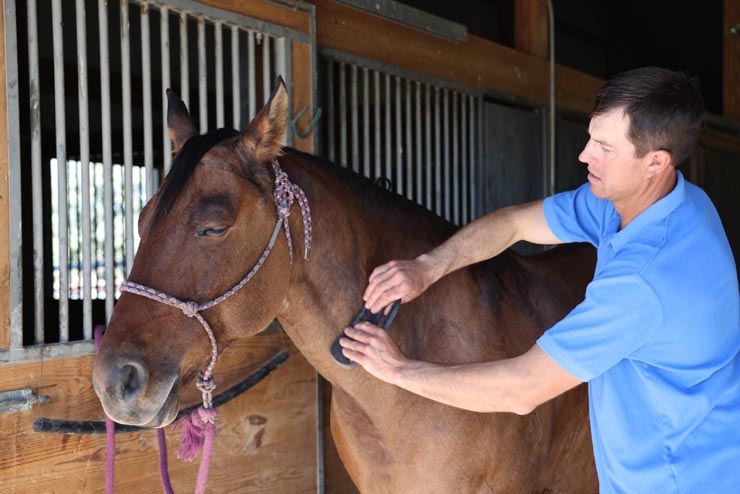 We are certain you will love this easy-to-use equine massager in the comfort of your own barn! This product has 100% satisfaction through the trial period and is backed with a 30-day money back guarantee.
*Patent Pending*
About Us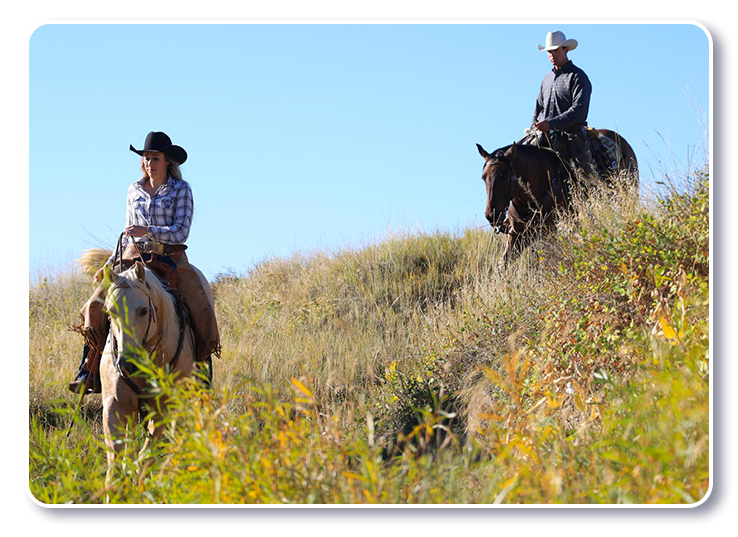 Created by a registered nurse who is an avid horse lover, trainer, rancher and mother of two.
My husband, kids and I live on our family ranch in Wyoming where we raise black angus cattle. We also enjoy training horses from breaking them as colts to finishing their training in roping and barrel racing events.
While working at the hospital, I witnessed relief and results in patients that received myofascial release. From there I just knew the horse industry needed to know the benefits of myofascial release.
The HorseWell Massager was made specifically for the equine anatomy. I found it to be incredibly helpful for our performance horses and ranch horses.
Testimonials
I think this is a long time coming and should have been out a long time ago. Horses are big strong animals and require massage. You can tell a horse owner has made this; it is tremendously user friendly.

Everyone likes the blade a lot. Shanna is really into it and is mastering her technique. I just love it and really suggest it. We are using and enjoying the blade.

I let a client who has several other blades try it out with her horse after our session (he has horrible scar tissue on the scapula) she said she prefers your prototype to the blades she currently owns.

I used it today on a weanling, he came in with blunt trauma to the pelvic girdle. His psoas were so tight and rigid. I do a lot of myofascial release by hand but this required a bit more and he absolutely loved it. Most of the horses have really liked it. Some fascial releases can be painful, so far I've heard none of them be upset over it!

I'm really liking it so far, the mare I have been using it on really likes it. After I use it on her she licks her lips and rolls when I put her back away.

I love the HorseWell Massager for everyday use in our barn! I appreciate how lightweight and easy it is to use. It fits my hands perfectly in any of the edges I am using, and the shape of the blade conforms to any area of the horse. I love seeing the horses relax as the blade helps releases tension build up. I would recommend the HorseWell Massager to any horse owner!

My horse gets abnormally muscle sore, and the blade has been so nice to have because it can get places that I can't with my hands! Think of how many horses this is going to help.

Keeping my horse feeling his best is incredibly important for us to win, and the HorseWell Massager is a key component to success.